Modern tiny homes offer an excellent way to combine the simplicity that tiny homes offer with the modern feel of a luxury home that many crave. These homes prove that you can easily downsize and still have a space that is both comfortable and contemporary.
Our first home is the perfect combination of rustic and modern and is designed and built by Zook Cabins. It's around 12 feet wide and 38 feet long and stands out because of its sloping roof and front patio, which make it a perfect fit for someone who is looking to spend more time outdoors without skimping on style.
As you can see the home has a split unit installed. We have had many questions regarding these units and recently discussed the difference between these and traditional ac units. You can read more about that here: What's the Difference between a Window AC & a Split AC?
Our second modern tiny home is a custom home designed and built by Modern Tiny Living. This home is a 28 ft. x 8.5 ft. tiny house but has all the features of a full-size designer home including:
designer gourmet kitchen
a subway-tiled walk-in shower with a glass door
washer/dryer
queen loft
shiplap walls
custom stairs with built-in storage
We could definitely see ourselves embracing the tiny home movement with a modern tiny home like this!
Our last home is a 450-square-foot home that we found on Houzz. We have to say, as soon as we saw it we fell in love, it definitely takes tiny home living to a whole new level! The home uses solar power and the whole building process was very environmentally friendly which was very important to the homeowners.
Just like in many manufactured homes, many design tricks were used to make the home appear larger. One such trick was the use of multi-functional furniture. Also, light colors were used throughout to give the appearance of a larger space.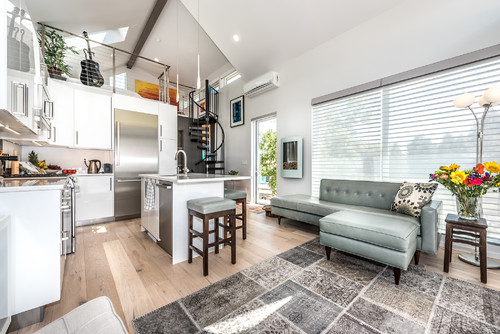 Photos by Tomecek Studio Architecture
Modern tiny homes are just one way to go if you are considering the tiny home lifestyle. Just like any home, they are totally customizable to fit your needs. The key takeaway when considering tiny home living is to embrace a simpler life and have a home that fits your needs. We hope these modern tiny homes inspire you!
As always, thank you for reading Mobile Home Living®.