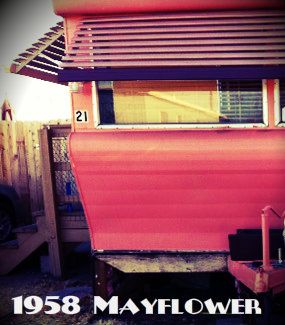 Single Wide Remodel – 1958 Mayflower Gets a New Life
Rebecca Knabe is a mobile home remodeling queen, pro and guru! Her 1958 Mayflower single wide remodel transformed her home into a gorgeous space. With more than 1 remodel under her belt, she's a great source of advice; she has also helped with 2 other complete transformations, one of which was on the Nate Berkus Show! 

She chronicles her life and the remodels on her blog
Trailer Chic Girls about
"Two Chicks Making Trailer Living Chic"
that she co-writes with her friend and neighbor, Tanille Leal. The insights and truthfulness of the writing is a real treat and you will be laughing through most of it. They can't stand the trailer trash stereotype either and are showing the world that with a little pride and goodwill we can change it! Make sure to check it out, the topics range from remodeling, great wine and everything in between.
Today, we are so honored to get to feature Rebecca's home. She was also so very kind to answer a few questions for us, too. These before and after photos will show you that anything is possible in a mobile home, as long as you put the work and the creativity into it, you will have a home worthy of the cover of any magazine!
 Rebecca knows remodeling!
Before……..
After the transformation!
The Interview
Name/Location
Rebecca Knabe, Reno, Nevada
Make/Year/Model
1958 Mayflower 10×50
2
Favorite Style
I'm most drawn to lived-in-modern, but I love beautiful, elaborate chandeliers.  I love anything inspired by nature, like natural wood and stone incorporated into the architecture and comfort is huge for me – comfortable furniture, bedding, etc.
Before the transformation.
After the Transformation!
Inspiration
Friends' styles, colors, and textures in nature.
Favorite Room/Place in Home
Hmmm, that's a hard one.  I love my kitchen – it has the most modern elements in my home, and I love the colors and style.  But I love sitting in my living room, curled up on my super comfy couch, especially in the evening with my electric fireplace and candles lit.  Perfect ambiance.
The coziest spot!
The kitchen before.
The kitchen after!
Just perfect!
What Friends Say
Many friends have asked for ideas or assistance with decorating.  Everyone is shocked that it doesn't look like what they think a trailer should look like.  One friend who saw the place before the renovation said she couldn't imagine any potential, but if anyone could find it I could. I don't know about that, but I was very flattered by her sentiments.
Biggest Embarrassment
My horrible pink bathtub.  The caulking is permanently dirty and the tub surround is cracked and old.  My dream would be to put a claw-foot tub, deep and short, in the space.  My trailer park neighbors have a claw-foot tub AND a chandelier in their bathroom and I covet it regularly.
Before
After
Greatest DIY Moment
The outdoor patio.  I had some help with the digging and planning, but I laid most of the pavers myself.  It was really hard work, but I love how it turned out!

Perfect party patio!
Biggest Indulgence
The vanity area in the bathroom.  I installed some pretty grey stone with turquoise glass tiles as the backsplash. It was my most expensive purchase for the trailer, but I love it!
Beautiful bathroom!
Best Advice
Try to see your space as just a space, whether it's a trailer, a loft, a studio, etc.  Don't keep your vision narrow, adapting to what you have seen or what you expect to see for that type of space.  A trailer is just four walls (shaped in a long, narrow rectangle, I know), and you can do what you like within those walls.
Don't allow yourself to be influenced by other people's perceptions.
Keep your space clean, neat and pretty – you don't need money to have pride in your home. 
Google and YouTube.  There is a tutorial for everything!
Source for Materials
Habitat for Humanity, Ikea, Home Depot, Lowes. There are great bargains out there if you look hard enough.
Thank you Rebecca, for letting us share your gorgeous home and letting us interview you!
Your home is a true joy to look at and really deserves to be gracing the cover of a magazine. Thanks to you, the rest of us can see that we can turn our mobile homes into a gorgeous contemporary home. It's true inspiration at its best!
Thank you so much for reading Mobile Home Living!