This romantic shabby chic mobile home is worthy of a chapter in Rachel Ashwell's next shabby chic decorating book. Rita, today's featured homeowner, has mastered the shabby chic style that made the interior designer famous.
Rachel Ashwell started her home furnishings brand 'Shabby Chic' in 1989 and home decor hasn't been the same since. She may have not invented the style but Ashwell certainly helped make shabby chic one of the most popular home decorating styles in modern history.
The famous designer describes her style as a "rebellion against perfection." Mobile home owners definitely know a bit about rebellion so perhaps shabby chic is the most fitting decorating style for us.
Comfort, imperfection, and simple living are the cornerstones of shabby chic decor. It's as much about rebellion as it is romance. Shabby chic is perfect in its imperfection. It embraces the very things most people want out of their homes: damaged, scratched, dented, and old.
Shabby chic is a mixture of soft natural fabrics and neutral colors paired with weathered and mismatched furniture pieces. Add floral, lace, and ruffles and you get a romantic shabby chic decor style that can be as easy on the eyes as it is the wallet.
Rita Lavoe (@ritalavoe) shares her beautifully romantic shabby chic mobile home with her followers on Instagram.
The light pastel colors work perfectly for a small home.
The Road to Her Romantic Shabby Chic Mobile Home
Rita's road to this romantic shabby single wide was a long one. She is originally from Brazil and first came to the US in 2007. Soon after, she and her husband had a son.
As life sometimes does the couple hit a rough patch, with a move to Puerto Rico and then a short stay in Brazil before finally moving back to the states where they stumbled upon an inexpensive single wide in California.
Rita Lavoe lives in Corona, CA with her husband and their 9-year old son. There's a cute little puppy in the family, too. She is originally from Brazil but her husband is an American. After a few years in Puerto Rico and Brazil, the little family needed to find a place to live in Corona but that's easier said than done. Unfortunately, California has been suffering a serious housing shortage and as a result, the real estate market is vicious.
The family wasn't able to find a home within their budget within their timeframe. They could rent or they could buy a small single wide mobile home. The little single wide was damaged but fixable and had potential. They paid cash for it but that left little money for remodeling so they had to choose their projects wisely.
Given the affordable cost of the home, the couple's new single wide needed to be updated. Rita could work with the small size but the dark drab interior had to go.
Fortunately, a pillar of the decorating style is that the home doesn't matter, only its contents.
$1,500 Remodeling Budget
Although a challenge, finding beautiful and original pieces to create her romantic shabby chic look was well worth it. You can always buy shabby chic decor at a retail store but what's the fun in that? Getting the real deal imperfections at flea markets, second-hand stores, and Goodwill is more fun and much more affordable.
With a budget of less than $1,500, Rita and her husband decided to change the layout of the home. For starters, they removed a wall to expand the small bedroom a bit. Then, they replaced the carpet with an affordable linoleum and added a french door to let light flow through the home better. To complete the canvas, they painted every wall and ceiling white.
Once the paint dried Rita could start creating that gorgeous romantic shabby chic bedroom she had dreamed of since she was a little girl in Brazil.
Rita explains, "When I came in here, I decided that such an insignificant space was going to be transformed into a cozy place. My family deserved this of me. Then I had the challenge of decorating a romantic shabby chic mobile home, with no money for it. I started attending flea markets, Salvation Army, Goodwill, garage sales."
Their little romantic shabby chic mobile home was completely decorated with second-hand objects.
Gorgeous Romantic Shabby Chic Mobile Home Bedroom
Rita tells us that while growing up in Brazil she dreamed of having a romantic shabby chic bedroom. She was always pulled toward the fresh florals prints and cozy bedding, "When I spent my childhood in Brazil, I always liked to decorate my room and I always had a dream of having a beautiful bed with floral bedding. Today my favorite environment is my bedroom."

"I love my house because it is a creation totally mine. Even with no money, this house has taken a very beautiful course and everyone says that there is great harmony here."

Rita
Rita is such a fan of Rachel Ashwell and Simply Shabby Chic that she collects anything she can find from the designer.

I asked Rita if she had any favorite products she could recommend and she had two favorites, "I have some favorite products that I always make a point of buying and I never regret it. Bedding, curtains, and pillows brand I like are Simply Shabby Chic and Rachel Ashwell. I also attend Flea Markets and Thrift Stores.'
Target sells the Simply Shabby Chic bedding. This blue set is $80.99: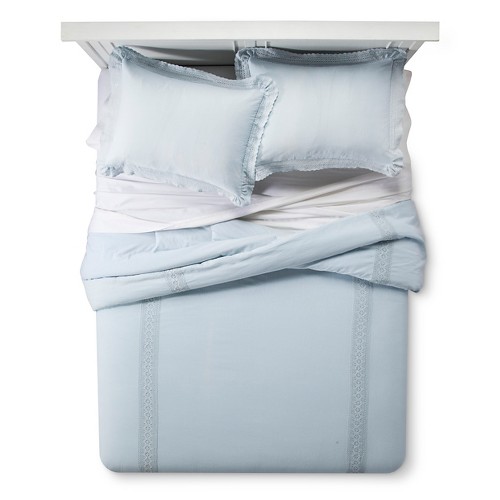 Click the bed to go to Target.com (affiliate link).
Couldn't Leave out the Comfy Puppy!
Real Homes. Real People. Real Budgets. Real Beauty.
This is real life and as I mentioned in my recent article, Editorial: When to Buy a Mobile Home, things aren't always easy. We all struggle with something.
Rita and her husband paid a fair price for the older mobile home because it had not been maintained very well. Unfortunately, they have suffered the consequences of poor maintenance.
Soon after they moved in and had spent their meager remodeling budget they experienced a short and lost power in 80% of the house. It took them almost 4 months before they could hire an electrician.
Her thankful and positive attitude reminds me of my favorite quote:
A Vision Come to Life: The Making of Rita's Romantic Shabby Chic Mobile Home
Rachel Ashwell tackled her own single wide mobile home in Malibu and you can see it here.
This shabby yet elegant look is '"a marriage between the laid-back , breezy easy of Los Angeles beach life and the romantic prettiness of English Country life at its most casual."

Rachel Ashwell
A Beautiful Home and Attitude
Unfortunately, Rita has experienced her fair share of judgment and rudeness about her home. Even though she may be considered 'poor' to some, she is rich in many things. This is just the first home in her new country and she's made this first step absolutely beautiful – I can only imagine how gorgeous the next step will be.
Rita also offers some thoughts on her romantic shabby chic mobile home, "Sometimes I think if I had money would I live in a house? Yes, I would, but also living in a mobile home and accepting our difficulties have made me appreciate what we have every day. Now our mobile home shines like gold because that's how much it's worth to me.
While they will need to figure out a better bedroom situation for her son, Rita is very happy living her simple life.
Rita says it doesn't matter if they don't have a big house. For now, this little romantic shabby chic mobile home has impressed them very much. It's not what she first thought a mobile home would be like and she enjoys her mobile home very much. It's a simple home and its age lends to a truly authentic shabby chic decor that she always dreamed of.
Rita's Instagram is absolutely gorgeous which is how I found her. I didn't realize it was a mobile home until I started reading the hashtags.
The family has worked hard for a dignified place to call home and it is beautiful. Thank you, Rita, for letting me share your romantic shabby chic mobile home and your story. You are an inspiration!
Thanks for reading Mobile Home Living.